CAST Förderpreis IT-Sicherheit 2018 verliehen
Am 29. November wurde zum 18. Mal der CAST-Förderpreis IT-Sicherheit verliehen
2018/12/03
Daniel Günther von der Technischen Universität Darmstadt gewinnt 1. Platz in der Kategorie Bachelorarbeiten.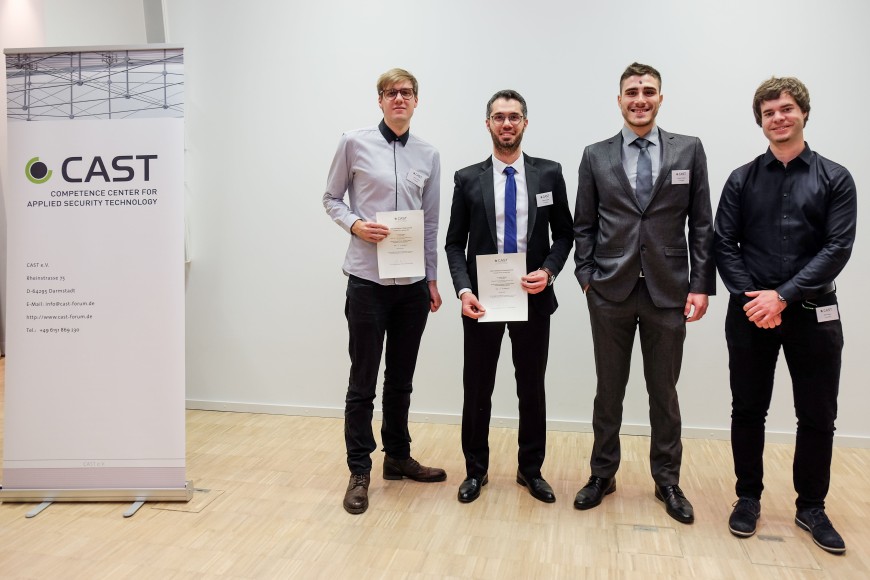 Gutachter des CAST e.V. hatten im Vorfeld alle Einreichungen gesichtet und deren Qualität bewertet. Auf dieser Basis wurden insgesamt neun Autorinnen und Autoren für den Finalisten-Workshop nominiert.
Die Finalisten waren geladen, die Ergebnisse ihrer Arbeit der interessierten Öffentlichkeit vorzustellen. Teilnehmer hatten hier Gelegenheit die Innovation der einzelnen Arbeiten zu hinterfragen und sich von der Qualität der Beiträge zu überzeugen. Im Anschluss hat eine Jury aus Vertretern der Wirtschaft und Forschung die Preisträger ermittelt.
In der Kategorie Masterarbeiten setzte sich Michael Klooß vom Karlsruher Institut für Technologie mit seiner Arbeit On the Efficiency of Non-Interactive Zero-Knowledge Proof Systems durch. Sog. Zero-Knowledge-Protokolle spielen eine wichtige Rolle in Anwendungen, die zum Ziel haben die Privatsphäre eines Nutzers wahren (privacy preserving applications). So kann damit ein Nutzer gegenüber Dritten die Kenntnis über ein Geheimnis nachweisen, ohne dieses Geheimnis selbst preiszugeben. Klooß konnte in seiner Arbeit die Effizienz eines bekannten Verfahrens deutlich verbessern.
Unter den Bachelorarbeiten gewann Daniel Günther (Technische Universität Darmstadt) mit seiner Arbeit Valiant's Universal Circuit – Towards a Modular Construction and Implementation. Diese Arbeit leistet einen Beitrag zum Schutz der Privatsphäre zweier interagierender Parteien mithilfe der sog. Private Function Evaluation (PFE). PFE erlaubt die Berechnung einer Funktion, ohne dass die Eingabeparameter der gegenüberliegenden Partei bekannt sind. Die Funktion selbst ist nur einer Partei bekannt.
Für die Technische Universität Darmstadt und den Profilbereich CYSEC stellen die Auszeichnungen ebenfalls einen Erfolg dar. Unter den insgesamt 33 Einreichungen gelang es gleich vier Studierenen der Technischen Universität sich unter den Finalisten zu platzieren. Neben Daniel Günther (ENCRYPTO), wurden auch Dennis Mantz (SEEMOO) mit dem 2. Preis in der Kategorie Masterarbeiten, Aidmar Wainakh (Telecooperation Lab) mit dem 5. Preis in der Kategorie Masterarbeiten sowie Kristiyan Dimitrov (GRIS) mit dem 6. Preis in der Kategorie Masterarbeiten ausgezeichnet.
Alle Finalisten gewinnen für ein Jahr eine kostenlose Teilnahme an den CAST-Workshops. Darüber hinaus sind mit dem CAST-Förderpreis Preisgelder in Höhe von insgesamt 3.700,- verbunden.
Die Preisträger in der Übersicht.
Kategorie Masterarbeiten
1. Platz: Michael Klooß. On the Efficiency of Non-Interactive Zero-Knowledge Proof Systems. Karlsruher Institut für Technologie
2. Platz: Dennis Mantz. InternalBlue – A Bluetooth Experimentation Framework Based on Mobile Device Reverse Engineering. Technische Universität Darmstadt
3. Platz: Constanze Dietrich. Human Factors as Security Risks in IT Operations. An Empirical Evaluation of Operators' Experiences with Security Miscongurations. Beuth University of Applied Sciences Berlin
4. Platz: Caroline Bender. Analyse wartungsarmer Anti-Tracking-Verfahren im Web am Beispiel der Browser-Erweiterung Privacy Badger. Universität Siegen
5. Platz: Aidmar Wainakh. On the Analysis & Generation of Synthetic Attacks for Intrusion Detection Systems. Technische Universität Darmstadt
6. Platz: Kristiyan Dimitrov. Exploring Deep Multi-biometric Fusion. Technische Universität Darmstadt
Kategorie Bachelorarbeiten
1. Platz: Daniel Günther. Valiant's Universal Circuit – Towards a Modular Construction and Implementation. Technische Universität Darmstadt
2. Platz: Marius Frinken. Forensic Log-file Evaluation, Unified Representation, Correlation and Visualization. FAU Erlangen-Nürnberg
3. Platz: Björn Becker. Ausarbeitung eines Leitfadens in Bezug auf die IT-Sicherheit mobiler SAPUI5 Anwendungen. Hochschule Bremerhaven