Johannes Buchmann erhält GFFT-Ehrenmitgliedschaft
2016/05/31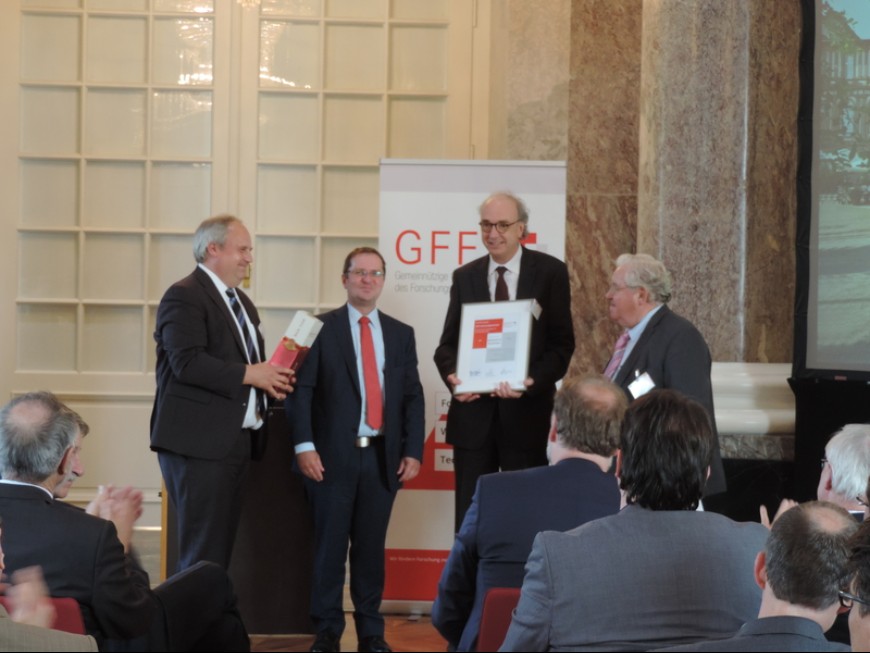 GFFT zeichnet CROSSING-Sprecher für sein Lebenswerk aus
The following text is only available in German.
Auf der Festveranstaltung anlässlich des zehnjährigen Bestehens der Gemeinnützigen Gesellschaft zur Förderung des Forschungstransfers e.V. (GFFT) im Schloss Biebrich bei Wiesbaden wurden Prof. Dr. Johannes Buchmann und Prof. Dr. Henning Kagermann mit der GFFT-Ehrenmitgliedschaft gewürdigt.
Prof. Dr. José Encarnaçao würdigte Prof. Dr. Johannes A. Buchmann als einen der weltweit führenden Experten im Bereich der IT-Sicherheit. Buchmann referierte über die Post-Quantum-Kryptographie und forderte ein zukunftssicheres elektronisches Signaturverfahren. Zukünftig sei ein kryptographischer Schutz von ca. 100 Jahren nötig, um eine langfristige Vertraulichkeit zu gewährleisten. So könnten Angreifer verschlüsselte Daten jetzt speichern und in weniger als zwei Jahrzehnten entschlüsseln.
Prof. Dr. Dr. h.c. Johannes A. Buchmann ist Sprecher von CYSEC und CROSSING, dem Kryptografie-Sonderforschungsbereich der DFG an der TU Darmstadt, Sprecher von CRISP, dem Center for Research in Security and Privacy Darmstadt, und Leiter der Arbeitsgruppe für Kryptographie und Computeralgebra am Fachbereich Informatik der TU Darmstadt. Er gilt als einer der Väter des Schwerpunktes IT-Security, der sich in den letzten Jahren in Darmstadt gebildet und sich inzwischen eine weltweit herausragende Bedeutung erarbeitet hat.
Die vollständige Laudatio finden Sie hier. (opens in new tab)