Lecture Series in Distributed Ledgers and Smart Contracts
Renowned scientists held talks on Blockchain Research – First edition of new lecture series
05.04.2019
The "Center for Secure Distributed Ledgers and Contracts" provides a platform to discuss and elaborate on the most recent results and innovations in the area of distributed ledgers and smart contracts.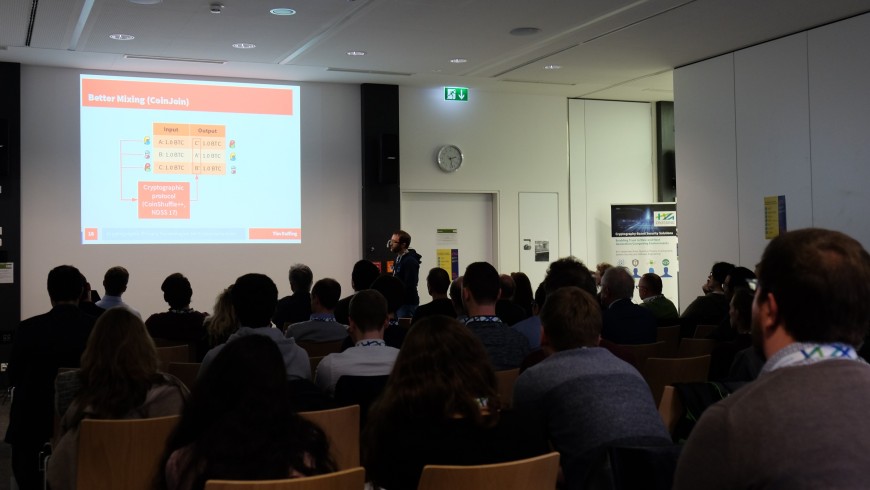 The "Lecture Series in Distributed Ledgers and Smart Contracts" is one of the many activities and events of the Center where active researchers and developers from academia and industry discuss their most recent projects and results.
The event was organized by CYSEC-PIs Prof. Ahmad-Reza Sadeghi and Prof. Sebastian Faust, and supported by the CRC CROSSING.
"Blockchain technology is an aspect of the Decentralized Security that benefits the security and reliance of our IT systems and our societies.", Prof. Sadeghi stated at the event. Prof. Faust added: "Distributed ledger technology has the potential to securely decentralize major Internet platform providers. At the same time it offers many fascinating research questions in areas such as cryptography, system security, programing language and game theory."
Following talks were held at the first edition of the lecture series on April 5, 2019:
Security And Privacy for Payment Channel Networks, Matteo Maffei (TU Wien)
Hopping Across a State Channel Network: Realizing Multi-Hop Transactions, Stefanie Roos (TU Delft)
Making Contracts Smart Again: From FairSwap and Perun to FastKitten, Lisa Eckey (TU Darmstadt)
SmarTor: Smarter Tor with Smart Contracts, Alexandra Dmitrienko (University of Wuerzburg)
Cryptographic Privacy Technologies for Cryptocurrencies, Tim Ruffing (Blockstream)
Towards Secure and Scalable Blockchain Technologies, Ghassan Karame (NEC Research)
Protecting the Immutable: Can We Prevent Re-Entrancy Attacks Against Deployed Smart Contracts?, Lucas Davi (University of Duisburg-Essen)
More information can be found on the website of the research center: https://distributedledger.center/